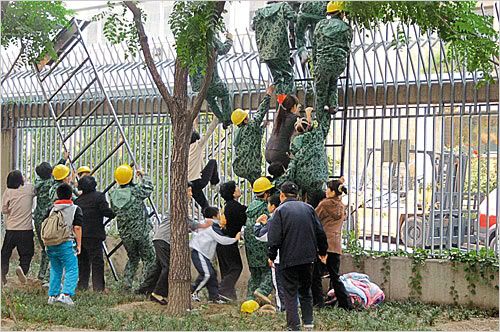 A total of 45 North Korean refugees climb a metal ladder outside the wall of the Canadian Embassy in Chaoyang, Beijing, China on Wednesday. Some of them are disguised as construction laborers. (photo and caption taken from the Digital Choson Ilbo.)

It looks like I'm not the only person whose feathers got ruffled by the report that Thailand arrested, fined and jailed North Koreans who were found in Bangkok.

In European Parliament Passes Resolution on N. Korean Refugees in Thailand the Korea Liberator reports that the EU has taken some action.

I went to the EU Parliment's website, and I'm not entirely sure what action was taken. If someone wants to go, read up on it and sort it out for me, here is the link: European Parliment - Agenda - latest version Thursday 7 September 2006 Strasbourg. (I already have tons of reading for school, so I just don't have time to sort through it all). Also, the full text is on the Korea Liberator site.

The hope is that one day the South Korean government will be spurred into taking a strong stand on the refugee issue.

Time will tell...
Sphere: Related Content