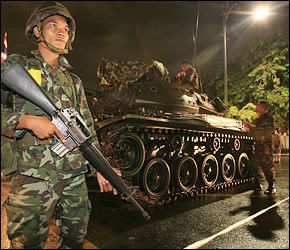 Prime Minister Thaksin declares state of emergency as tanks surround Government House. (Reuters) from Washingtonpost.com

I woke up this morning ready to ignore the news and hop on my exercise bike, but then I saw the headlines that Thailand's Prime Minister, Thaksin Shinawatra, has been ousted in a military coup. It turns out that he was in New York to address the UN (irony of ironies) and had been running about extolling the achievements of his administration. In Thai Military Launches Coup at the Washingtonpost.com they have a pretty good article walking through what's happened so far.

The Thai armed forces launched a coup against Prime Minister Thaksin Shinawatra today while he was attending the U.N. General Assembly meeting in New York.

Announcements on Thai television said a "Council of Administrative Reform" had seized power, dismissed the government and revoked the country's constitution without any resistance, according to reports from Bangkok, the Thai capital.

The coup was led by the Army commander in chief, General Sondhi Boonyaratglin, and came after weeks of rumors of possible military intervention as tensions rose between Thaksin and the armed forces.

Coup leaders quickly declared their allegiance to Thailand's long-time king, Bhumibol Adulyadej and promised to reinstate a democratic government as soon as possible. A military spokesman said Sondhi will become acting prime minister.

"The armed forces commander and the national police commander have successfully taken over Bangkok and the surrounding area in order to maintain peace and order. There has been no struggle," a Thai military announcement said, according to the Associated Press. "We ask for the cooperation of the public and ask your pardon for the inconvenience."
This is also interesting to me because I think Thailand is a beautiful nation. Like all places, it has problems though. I have been following the tussle between Thaksin and his opposition for months. I also have two friends in Bangkok right now. One is working at the UN and the other is an editor for one of the Thai newspapers. Also, the former vicar of my church just relocated to Thailand. When I heard I wanted to make sure it wasn't a violent coup. Good for all concerned that, thus far, it's been peaceful.
The thing is I was concerned when Thaksin started having troubles months ago.
There were calls for him to step down, but instead he held on to power and called another election. It was boycotted by the opposition and a Thai court declared that election null and void. There were plans to have another election sometime this fall.
The Thai capital was so far free of the bloodshed that swept the military from power in 1992 when dozens of pro-democracy protesters were killed and hundreds injured after the armed forces staged a coup a year earlier. Since becoming a constitutional democracy in 1932 Thailand has now faced 18 coups or coup attempts.

Thailand has been edging toward a confrontation for several months since street demonstrations led by Bangkok voters called for Thaksin to step down over allegations of corruption and abuse of power.

Thaksin is a twice-elected billionaire telecommunications tycoon whose family had earned almost $1.9 billion in tax free income from the sale of shares in the family's telecom business to Singapore-based Tamasek Fund.

Thaksin had called general elections in April, seeking a vote of confidence. But opposition parties boycotted the vote and Thai courts later nullified the election. Fresh elections led by a newly appointed election commission were due to take place this fall.

Kraisak Choonhavan, a Thai senator, said the coup had appeared inevitable given the political tensions of recent months. "The key to understanding this event is probably Mr. Thaksin [had wanted] to take out the existing military hierarchy off altogether and put his men in and have total control over Thailand," Kraisak said.
I'm certainly no expert on Thai politics, so let me say that right now. However, as you can see, this has been brewing for awhile.
Also, people freak out when they hear the term "coup."
That's definitely the case with folks from the West.
However, in Korea the most productive and powerful leader
Park Chung-hee
took power in a bloodless military coup against the Second Republic of Korea.
* Park's was later elected into power, but his economic polices, and heavy handed government turned South Korea around from a country that was impoverished to a country with industries and an export economy to be reckoned with.
Of course, Park is not the only factor behind South Korea's development, but his strong leadership did make a huge difference.
The turn of the South Korean economy is frequently referred to as a "miracle" because South Korea, and a couple of other northeast Asian countries, have done in 30 years what it took other countries hundreds to achieve. Also, many other countries have failed in their attempts to develop. In terms of democracy, even though the Korean War cease-fire was signed in 1953, South Korea has only been a democracy since, depending on who is talking, the late 1980s/early 1990s.
Now I know there are huge differences between Thailand and South Korea.
I also know there are many issues surrounding having democracies and development, but the fact that they had a coup doesn't worry me as it's been coming for months.
Clearly, there is legitimate concern as there are so many situations where a coup leads to no progress or a reversal of progress, no democracy or a reversal of democracy, and no benefits for the citizens of the country the military claims it wants to serve.
But as Thailand is a country that has had a few of these, what will worry me most is not the rise of a military dictatorship but how this will progress.
Will things proceed as promised or will things spiral out of control? Considering Thailand's record, things will probably settle down and the military will reinstitute democracy. However, only time will tell.
-----
*Thanks to a comment from ur2big2, who didn't want his comment posted for a correction to my post. Park Chung-hee's coup was against the Second Republic of Korea as Rhee Syung-man stepped down nine months before that coup, so I stand corrected. Gotta give credit when I make an error of just looking at a timeline and not digging deeper.
Sphere: Related Content