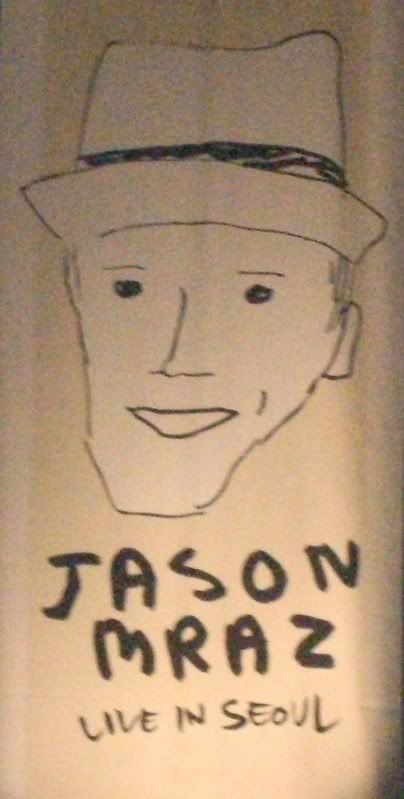 Happy fans. Happy singer ;)

I just got in from seeing Jason Mraz in concert.

I was all gung-ho and ready to give you a concert review, BUT then I had a bowl of soup and a warm drink. I'm sick and I think it's walking pneumonia or some other nasty twist because it's definitely not a cold although initially that's what the symptoms felt like.

However, that didn't stop me from going. First, I love his new CD: We Sing. We Dance. We Steal Things. (The title cracks me up too). Second, I missed him a couple of years ago when he played at the Incheon Pentaport Festival because I was stuck working outside of Seoul for a couple of weeks. Plus, having a real case of influenza didn't stop me from going to Paris for a month awhile back, so a bad cough, sore throat, scratchy voice and runny nose wasn't going to stop me from going across town to see this guy play.

What did almost stop me from going was having the person who issued my ticket yesterday tell me to get there by 8pm. No, last night's performance was at 8:30pm. Tonight's performance was at 7pm. Thank goodness I was bored and decided to look up the venue. There is saw the info and since it was around 6:20 that left me very little time to get there. One incompetent taxi driver and one competent taxi driver later, I made it. I was a few minutes late but I made it for the bulk of the show.

However, now I'm tired and voiceless. So I'll put off my review until a later time.

Update 1 - August 23, 2008 @ 11:14am:

I never got the set list that I requested from those promoting this concert, so no review. However, I'll say it was a great show and leave it at that.





Jason's MySpace
Jason's webpage
Jason's YouTube page
Sphere: Related Content