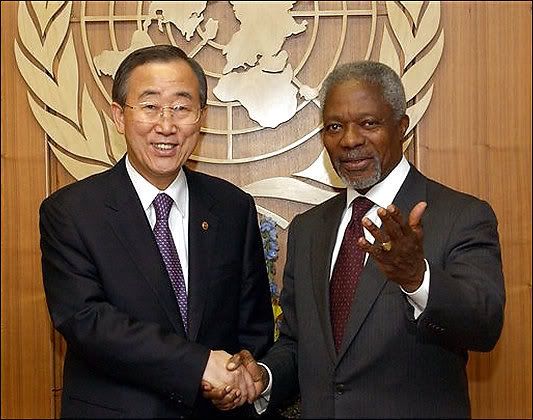 Kofi Annan, the United Nations Secretary-General shakes hand with Ban Ki-moon, Foreign Minister of South Korea at the U.N. headquarters in New York, Wednesday, October 11, 2006. (photo and caption shamelessly lifted from the WashingtonPost.com.)
Nothing much needs to be said except for congratulations to Ban Ki-moon and South Korea on Mr. Ban's appointment as the next Secretary General of the United Nations!
I remember discussing this in class last year. Then the general opinion was even though South Korea would put forth a strong candidate that because of international politics the candidate wouldn't have a chance.
My how things change in a few months! All of his opponents eventually dropped out of the race and he was unopposed. It's just great!
Here is a news article from the WashingtonPost talking about his appointment.

South Korean Approved as U.N. Secretary General
UNITED NATIONS, Oct. 13 -- The U.N. General Assembly overwhelmingly approved South Korean Foreign Minister Ban Ki Moon on Friday as the next U.N. secretary general.

The Security Council's choice of Ban, 62, to succeed Kofi Annan was ratified by acclamation at the General Assembly, consisting of all 192 U.N. member governments.

Hundreds of diplomats and U.N. staffers broke into loud applause when the General Assembly president, Sheikha Haya Rashed al-Khalifa of Bahrain, asked the assembly to adopt the resolution by acclamation. She then banged the gavel and said, "It is so decided."

Ban will become the eighth secretary general in the United Nations' 60-year history on Jan. 1, when Annan's second five-year term expires. The last Asian to run the world body was U Thant of Burma, who held the post from 1961 to 1971.

"It has been a long journey from my youth in war-torn and destitute Korea to this rostrum and these awesome responsibilities," Ban said in accepting the post, in both English and French.

"I could make the journey because the U.N. was with my people in our darkest days," he said. "It gave us hope and sustenance, security and dignity. It showed us a better way. So I feel at home today."

Ban will oversee an organization with 92,000 peacekeepers around the world and a $5 billion annual budget. The United Nations' reputation has been tarnished by corruption scandals, and its outdated practices need reform to meet the challenges of the 21st century.

Annan hailed Ban as "exceptionally attuned to the sensitivities of countries and constituencies in every continent."

The choice of Ban for the top job coincides with increased U.N. involvement in the effort to thwart North Korea's nuclear weapon development program. Ban has said that he would like to help mediate the dispute with the communist government in North Korea.
Sphere: Related Content