Update: A Wee Bit of a Scandal

AfroBella: How Odd
Radar Online: Black Blogger's Beef With CosmoGirl Contest

I'm in the library, but just read the posts. I've commented on AfroBella, so I think that covers my perspective on this. Now I have to get back to the books.

Update: The Voting Is Over

I got into work today ready to cast a few more votes from my office and other computers I'd find along the way. However, it seems that some people weren't playing fair, so the voting has been suspended.


We have determined that the online voting has been corrupted as a result of one or more instances of tampering with the voting process by users. As a result, none of the online votes will be counted, and we will submit all three of the semi-finalists to our panel of experts for final judging and selection of a winner.

The winner will be featured in the August 2007 issue of CosmoGIRL!
What sucks, of course, is the time that people spent voting and urging others to vote. Now that effort is a loss. Anyway, now it's in the hands of a "panel of experts" and it's not clear when the winner will be announced.
Something appeared to be fishy when on Monday A Girl Like Me's votes increased at a steady pace but votes for the others spiked and jumped over 2000 votes in that same amount of time. I captured some screen shots and mailed them to CosmoGirl.
Now I'm hearing all sorts of stuff. I mean the winner will be featured in the August 2007 issue, but when will the suspense be over? Too bad someone or some people ruined the fun for all of us.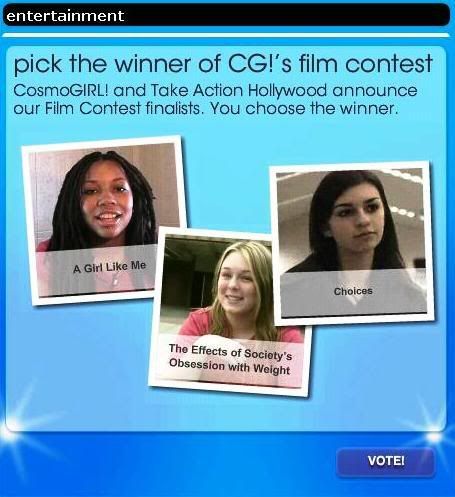 Update: The voting ends on April 13th at 12noon EST.
I checked maybe 10 minutes ago and she was just over 400 votes from first place!
I HAD to update this blog and hope that folks check it and vote.
Please vote! Bug your friends and get them to vote too! If she gets a big surge, she can take it.
Thanks so much!
----------------------------------------------
Original posted: April 7, 2007 at 12:56am, KST
I blogged about the
A Girl Like Me
short documentary a few months ago.
I just heard that she'll win a $10,000 scholarship if she wins the CosmoGirl Film Contest.
Try to vote daily until it's over. I'm so organized I'll calendar it so I won't forget ;-)
So check out the video via my post here:
My

A Girl Like Me

blog post, August 7, 2006
Then go and help Kiri Davis out and give her your vote here: VOTE HERE FOR

A GIRL LIKE ME
Thanks!
Sphere: Related Content