Oh man...why did I agree to do this?

Over at the Citizen of the Month, Neil got a request to take a picture of himself right after he woke up: Come Saturday Morning. This came from Jessica at the Daugther of Opinion blog's Rise and Shine challenge. The problem is she looks great in the morning: Jessica's Rise and Shine picture

I, on the other hand, tend to sleep with my face in the pillow. I don't know why I find that the best sleeping posture. What it means is when I wake up my face is completely puffy and askew because you can't sleep completely face first, so I end up sleeping with one half to three quarters of my face on the pillow. I also go to sleep with a scarf on my head which is never there in the morning, so why do I bother?

Anyway, I took my rise and shine photo as soon as I woke up this morning with my camera phone. Okay, yesterday morning as it's almost 1am here.

It came out really dark because it was early and still somewhat dark outside. The auto adjust on my photo software lightened it up a bit.

Anyway, fine...here it is: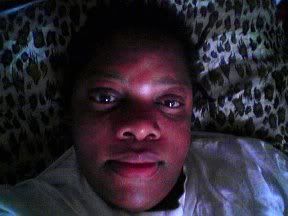 Yes, you can totally see the askew face first sleeper face there. I'm just glad my other pictures show I can scrub up somewhat nicely.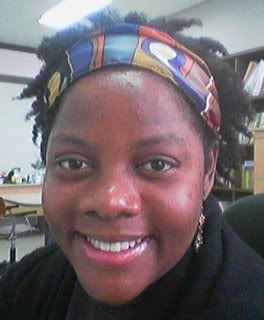 Okay, now I need some good topics to blog to push this blog off the page.
Sphere: Related Content