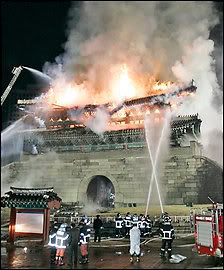 Update - February 12, 2008 @ 2:23pm PST

According to the New York Times, a 69 year old man has turned himself in and confessed to the crime.
____________________________

I'm still out of South Korea on vacation. However, I got an email from a friend of mine that Namdaemun gate caught on fire and was destroyed.

How sad. Honestly, I live near the gate and always loved being on the 402 or 0014 bus as they'd do the roundabout and head up the road to Namsan Park.

It's sad to see such an old landmark destroyed.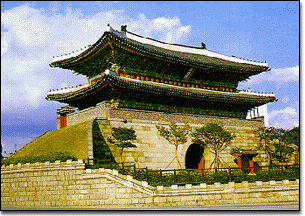 Before and what I'll see when I get back :(

Here is a link with video from CNN International:

Seoul's historic gate destroyed

Here is the AFP article covering this story:

Historic SKorean landmark collapses after blaze

SEOUL (AFP) — An iconic wooden building dating back some 600 years and designated as South Korea's foremost national treasure collapsed early Monday after a fierce fire.

Police said they are investigating whether arson sparked the blaze at the Namdaemun gate in the heart of Seoul, one of the few historic structures to have survived the 20th century Japanese occupation and Korean War.

Koreans inspecting the sooty and charred debris expressed grief at the loss of the building.

"It is heartbreaking," said Kim Duk-Il, 40, a visitor from the southern city of Daegu, wiping away tears.

"The gate had endured 600 years," Kim told AFP. "It remained OK even during the Korean War. I still cannot believe this. Our pride has fallen down."

The ornate two-storey building atop the stone gate, the city's oldest wooden structure, caught fire Sunday evening. Eighty firefighters battling the blaze believed it was under control late Sunday but it flared up again.

Yonhap news agency said a taxi driver who reported the fire told investigators he saw a man in his 50s climb the stairs to the gate shortly before the blaze started.

A police forensic team was Monday sifting through debris at the site, which was surrounded by scaffolding and a screen.

"Police have not drawn a conclusion yet -- whether there was a short-circuit, arson or an accidental fire," Kim Yong-Su, captain of the Namdaemun police station, told reporters.

"Police are still investigating this with all possibilities in mind."

He said three witnesses reported a suspected arsonist but they were giving "confusing" testimony on which he refused to elaborate.

The gate, a major tourist attraction, was originally constructed in 1398. It was rebuilt in 1447 and has since been frequently renovated.

Some pillars dated back to the original structure, a rarity in Seoul. Japanese colonialists razed several historic buildings during their harsh 1910-45 rule and much of the city was destroyed during the 1950-53 Korean War.

"It's devastating: the pride of the nation has collapsed. It's so bad this kind of thing happened on the first weekday of the Lunar New Year," Kim Cheol-su, 55, told Yonhap.

The agency quoted firefighters as saying the Cultural Heritage Administration had asked them to tackle the blaze cautiously, meaning they could not quickly break into the area where the blaze started.

The landmark, which is surrounded by modern office buildings, is officially named Sungnyemun or "Gate of exalted ceremonies." It was the southern gate in the walls that surrounded Seoul during the Chosun Dynasty of 1392-1910.

It is adjacent to Namdaemun market, a centuries-old market popular with locals and tourists alike.

The Cultural Heritage Administration, which supervises the gate, said it expects a long and costly restoration.

"Experts estimate that it will take two to three years to rebuild its architecture and cost some 20 billion won (21 million dollars)," Shim Dong-Jun of the historic architecture division told AFP.

Mournful residents snapped photos of the charred ruin.

"It's like losing a family member," said Kim Jae-Bun, who has run a drug store nearby for some 30 years. "I never imagined it would burn down so helplessly."

The blaze comes less than three years after fire destroyed one of the country's oldest Buddhist temples, Naksan Temple, along with its bronze bell.

Sphere: Related Content