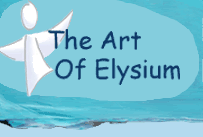 This is a great cause and I just want to spread the word about what they're doing.

The name of the organization is called The Art of Elysium. What they do is bring artists to work with and inspire children who are hospitalized with serious illnesses.

Here is how they describe the work they do:

E.ly'.si.um: a place or condition of ideal happiness

Mission: The Art of Elysium, a non-profit 501(c) (3) organization founded in 1997, encourages working actors, artists and musicians to voluntarily dedicate their time and talent to children who are battling serious medical conditions. We provide artistic workshops in the following disciplines: acting, art, comedy, fashion, music, radio, songwriting and creative writing.

Here is a
video link
featuring a few artists,
including
Jordan Lawhead
, doing their thing through the Art of Elysium.
It's nice to see artists giving back in ways that involve more than writing a check or going to a party.
More should try it.
I was blessed as a kid with pretty good health. As I got older, I've been hospitalized a couple of times. Even though I put on a brave face and cracked a lot of jokes, it's terrifying. I can't imagine what it's like to experience that as a child.
These folks are doing some great work! It seems to be L.A. based now, but it would be nice to see it expand.
--------------
I heard about this non-profit from a member at MySpace. Thanks
Lori
!
Sphere: Related Content