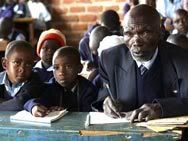 Eighty-six-year-old Kimani Nganga Maruge, seated in front, attending school in a tiny village just outside El Doret, in western Kenyain Kenya. Maruge surprised school officials when he showed up at the school asking to take advantage of a government program that promises free education for all citizens. (ActionAid International) Photo and caption from abcnews.com

Even though I'm suffering through finals and have due dates for research papers looming close, I definitely recognize how lucky I am to have had access to high quality education my whole life. That access has enabled me to live abroad and travel. Now I'm getting more education, and whenever I think about that I do realize how lucky I am.

That leads me to why I'm posting a link to this news story from ABCNews. After putting the finishing touches on a final project this morning, I decided to scan the news headlines and saw this story: The World's Oldest Student?

It's about, Kimani Nganga Maruge, an 86 year old man in Kenya who is taking advantage of the new program that guarantees free primary school education for all.

Enjoy! It's a great story.
Sphere: Related Content