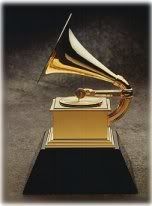 Oh boy! I'm up late working on project and they announced the nominees for the 49th Annual Grammy Awards about an hour ago.

I'm so excited because some of my favorite artists got Grammy nods!

Congratulations, bitches!

Mary J. Blige leads Grammy nominees
LOS ANGELES (Reuters) - R&B singer Mary J. Blige led the contenders for the Grammy Awards, picking up eight nominations, organizers said on Thursday.

Los Angeles rock band the Red Hot Chili Peppers landed six nominations, while English singer/songwriter James Blunt, country trio the Dixie Chicks, pop singer John Mayer, funk veteran Prince, producer Rick Rubin, Black Eyed Peas singer will.i.am and classical composer John Williams earned five each.

The 49th annual Grammy Awards, considered the music industry's most prestigious, will take place at the Staples Center in Los Angeles on February 11.

Okay, either it's bedtime or I need to get back to work.
More links:
NYTimes:
Blige Leads Grammy Nominations With 8
The Envelope by the LATimes:
Grammy nominations unveiled
BBC News:
Mary J Blige leads Grammys list
John Mayer's Blog:
Ladies and Gentlemen, I'm Partying
-----------------------
Oh, update. I got info from Eric at the
MOG website
.
They have a
contest to go see the Red Hot Chili Peppers in Sydney
. The show will be sometime in mid-April 2007.
Check it out. It seems really cool.
Sphere: Related Content