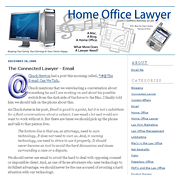 I posted this mostly for my friends and former classmates who want to hang their own shingle and get out of the lawyer rat race. I got out by default because I just decided it wasn't for me. Clearly, I've chosen to go academic.

Anyway, I figured posting it because any lawyer who is interested in working for themselves might benefit from reading this blog.

I found out about it because it's TypePad's Featured Blog for December 30th.

Here it is: Home Office Lawyer

Enjoy!
Sphere: Related Content