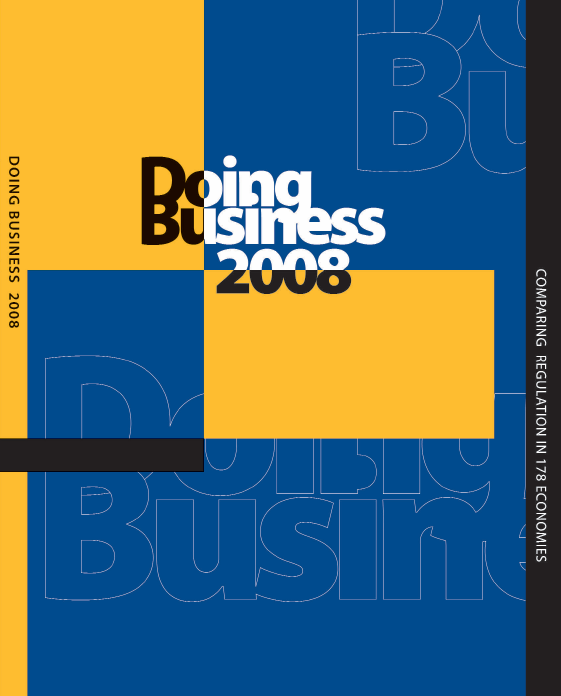 Click on the pic to go to the Doing Business 2008 website

Hehehehehe...yes, I'm getting a mean spirited laugh out of this one.

I guess that I just can't let this one go.

In its quest to become an international hub of some sort, South Korea has managed to drop in the World Bank's ranking of the ease of doing business compared to other countries.

If you make it difficult then people are going to move on. I'm not going to establish a business here if you make it difficult.

Believe me, I had to call the gas company today about my bill. How many times do I have to call to have them delete an old bank account off of my damm bill? After trying to call in the morning I finally got through this afternoon to some utterly unhelpful dink. Knowing this is part of life here, I took a deep breath, found another number and, thankfully, found someone who could help me.

Now it's different as I'm a person calling about a gas bill for my apartment and not a business, but multiply that by a foreign branch of a company and I can't image where that ranks on the "pain in the ass" meter. Basically, it's too high up on the scale to warrant coming to Korea when it's easier to go elsewhere. Things get done here but Koreans seem not to understand that inefficiency will turn a Westerner off in a quick second. Now, I know there are issues back home too, but I'm not talking about the USA right now.

Make things difficult and businesses decide to go elsewhere. That also feeds into if you make living here difficult people will decide to take their businesses to a place where living is easier. It's just that when nations are compared Koreans start wondering why Korea isn't getting a big chunk of foreign direct investment...whatever.

Dang...why is that so hard to get and act on?


Korea's Corporate Environment Declines

Korea's corporate environment has worsened since last year, according to "Doing Business 2008", a report by the World Bank released Tuesday. South Korea fell from no. 23 in 2006 to no. 30 this year in terms of how easy it is to do business here.

Portugal undertook the most effective reforms for a business-friendly environment, the report says. But South Korea implemented no reforms that helped improve the corporate environment.

South Korea ranked 110th in Starting a Business, down nine places from 2006; 131st in Employing Workers, down one place; 64th in Protecting Investors, down two places; 22nd in Simplifying Licenses, down from 16th; 68th in Registering Property, down from 65th; 36th in Getting Credit, down from 32nd; and 11th in Closing a Business, down from 10th in 2006.

According to the report, 10 different stages are needed for a person to start a business in Korea, while it takes 17 days and 16.9 percent of per capita gross national income to start a business in the country. In contrast, the OECD averages six stages, 14.9 days, and 5.1 percent of per capita GNI.

For the second year running, Singapore topped the rankings, followed by New Zealand, the U.S., Hong Kong, Denmark, the U.K., Canada, Ireland, Australia and Iceland.

Honestly, Korea has some really good things going for it. But other countries do too.

Step up Korea, seriously.

Sphere: Related Content