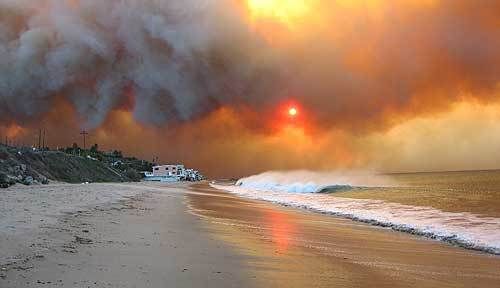 Sunday Morning, October 21, in Malibu, California
Okay, the region where I grew up is alight due to Santa Ana winds gone wild, dry conditions and overgrown brush.
Flames flare up regularly around this time of year and there have been some in the past that have been pretty bad. This, however, is a disaster and has been for the last couple of days. I've been watching in the hopes that it would eventually die down. Instead, it's getting bigger, more acres are burning and more people are being evacuated.
What's funny is some are trying to
politicize it
, and Jon Swift has weighed in on that with his usual wit. The area where I grew up is
flame icon free
and will stay that way because there are no surrounding hills or brush areas. It's the areas adjacent to the hills, the green areas on the map, are the ones at risk.

The reports are good at this point. People are banding together and are helping each other out. That's great to hear.

One concern are animals caught in this. It's not like they can hop in the car and flee, so I hope people are responsible regarding the animals in their care. The current reports say the weather is cooperating, so hopefully, the worst of it all has peaked.

So with that said, here are some articles and resources to get more information on what's going on.



RimoftheWorld.net: Folks listening to scanners who work as a group to keep updated info on emergencies. They're covering this pretty well.

CNN.com: Emergency wildfire contact information

LA Times: Blog - Southern California Wildfires

LA Times: Road closures and evacuations

San Diego Tribune: Main webpage - some good news links

Wildfires 2007 - "Breaking news of the San Diego County wildfires from SignOnSanDiego and The San Diego Union-Tribune". It gives you short updates on what's going on and who is doing what to help.

Craig's List LA - FireForum: Honestly, I don't know how helpful this is 'cause it's CraigsList and some of those folks are downright nutty. But there seem to be some threads that aren't a complete waste of time.

Okay, bedtime for me. I didn't sleep well last night, so, if necessary, I'll update this with more links later on.
Sphere: Related Content