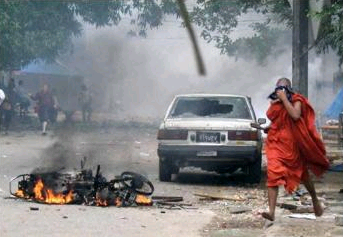 A monk runs from tear gas fired by police on protesting Buddhist monks in Yangon from the
AFP
.
My
Myanmar blog post
, but it's seven updates strong, so it's time for a new post instead of an update.
Last week the UN released a report that was very critical of the government in Myanmar. This week Prime Minister Hun Sen of Cambodia praised Myanmar. In reaction, it seems, UN investigator Paulo Sergio Pinheiro called for Myanmar to enter into talks. It just seems with China supporting it and its neighbors sitting back on the human rights issue, I see no reason why those in power would bother with any talks. Maybe I'm missing something, if so, get me up to speed.
Envoy pleads for Myanmar dialogue
GENEVA, Switzerland (AP) -- The U.N. special investigator for Myanmar pleaded with the country's military junta on Wednesday to engage in a serious dialogue about human rights, a day after U.S. President George W. Bush threatened new international sanctions.

"We know that we have a problem," Paulo Sergio Pinheiro, who recently visited the country, told Myanmar's ambassador at a meeting of the U.N. Human Rights Council.

Pinheiro said he was disappointed by Myanmar's reaction to a report he formally presented to the 47-nation body on the government's deadly crackdown on pro-democracy demonstrators in September.

The report released last week found that at least 31 people were killed -- more than double the number acknowledged by authorities. Pinheiro said the death toll was probably much higher.

Pinhero's plea came a day after Cambodia's government defended Myanmar's junta. On Tuesday Cambodia's leader said the U.N. should leave Myanmar alone and stop disrupting the junta's progress toward democracy by issuing critical reports on human rights abuses.

"Myanmar has been moving smoothly ahead," Prime Minister Hun Sen said, becoming perhaps the first national leader to publicly praise the country's military junta since its bloody September crackdown on pro-democracy protests.

Hun Sen, whose government is regularly criticized for human rights abuses, lashed out at the Pinheiro report released last week. Hun Sen said the report did nothing but "disturb" Myanmar's efforts toward reform.

Also on Tuesday, the U.S. House of Representatives approved a bill meant to stop Myanmar's rubies and high quality jade from entering the United States. The bill tightens already tough sanctions against a ruling military junta that killed peaceful pro-democracy protesters and Buddhist monks in September.

The House bill would freeze assets by Myanmar's leaders and cut off tax deductions for U.S. companies working in Myanmar, also known as Burma.

It attempts to stop Myanmar from dodging U.S. sanctions through laundering gemstones in third countries before selling them in the United States.

"Burma's generals fund this repression of their own people by selling off the country's natural resources," Democratic Rep. Tom Lantos, chairman of the House Foreign Affairs Committee, said in a statement.
More links:

International Herald Tribune: Cambodian leader blasts report, says UN should leave Myanmar alone
AFP: At least 31 killed in Myanmar unrest: UN expert

Sphere: Related Content