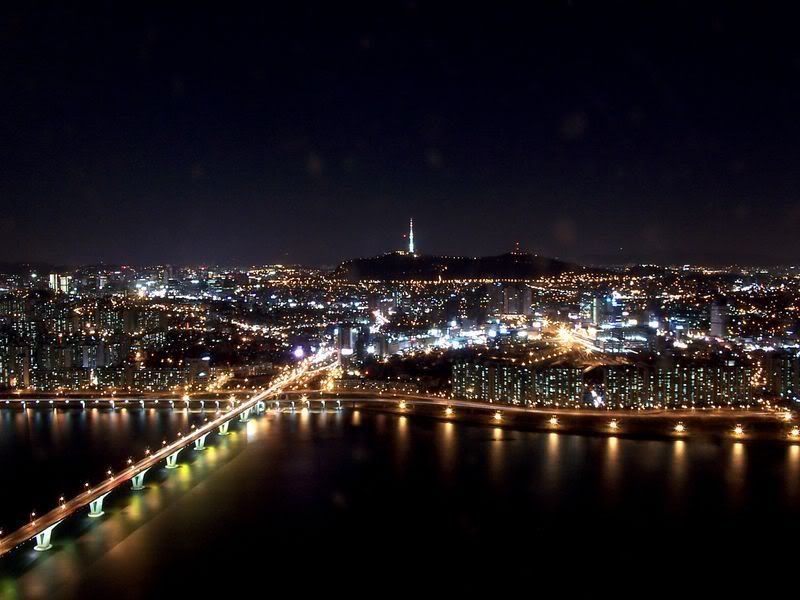 A View of Seoul from the Yuk sam Building (Six Three Building)
Seoul World's Sixth Most Densely Populated Area
The Seoul-Incheon area is the world's sixth most densely populated region, the American business magazine Forbes reported Tuesday.

In an analysis of the population density of world cities by the magazine, the Seoul-Incheon area has a total of 17.5 million people on a 1,049 sq. km of land, or 16,700 people per square kilometer. Seoul has a smaller area than New York but twice the population. It also has 3 million registered vehicles, causing serious traffic congestion, Forbes reported.

The most densely populated city was Bombay, India's commercial center, with a population of 14.35 million on 484 sq. km or 29,650 people per square kilometer. Next was Calcutta, which has a population density of 23,900 per square kilometer. Karachi, Pakistan was third, followed by Lagos, Nigeria (fourth), and Shenzhen, China (fifth). Seventh through 10th were Taipei, Chennai in India again, Bogota in Colombia, and Shanghai.

Asian cities accounted for 16 of the top 20 world cities with the highest population density. Five were in India and four in China. Two African cities and two South American cities also joined the top 20 group.


The picture above shows Seoul Tower which is in Namsan Park. I live at the foot of Namsan Park which is encircles Seoul Tower.

The article above is interesting simply because living here, you realize that there are A LOT of people in Seoul. However, what stands out to me right now is how central Seoul seems to be where the upscale areas are. That's great for me as I'm smack in the middle of the city. I'm wedged between two branches of my favorite Korean department store, Shinsegae. One is at the Express Bus Terminal and the other in my favorite district of Seoul, Myeongdong. Both are just a five minute taxi ride away.

The further out you get to the edges of the city you notice the glitz disappears quickly and, by my observation, it seems these areas are where the less well-off tend to dwell. I think I've got a good feel for it because I come from a working class, lower middle class neighborhood. The good thing about Seoul is you don't feel like you're in any physical danger when you go to the less well-off side of town. I can't say the same for my old neighborhood. Now, I'm not counting suburbs like the affluent Bundang area or the southern area of Seoul like the well-manicured Yangjae area of the city.

The reason this is on my mind is that right now I'm working at a camp at a university on the edge of the city near Gimpo airport. To me, it feels like I'm back in one of the small towns I lived in before I moved to Seoul. The streets are narrow and the colors are very gritty.

Essentially, it's yet to be gentrified. There are no Starbucks coffee houses. The big megamarts like E-Mart or Lotte Mart are more spread out unlike where I live where I have an E-Mart, Lotte Mart and a 24 Kim's Club all only five minutes away by car. The giant (and expensive) apartment complexes are nowhere in sight. The movie megaplexes and the department stores aren't that close either. I can also tell by how the locals are dressed and the fact that there is an old fashioned outdoor market.

In a way, it loosens me up a bit and I'm less hard with the people I deal with. I'm less inclined to give someone a pass if it's clear they live in a ritzer area of Seoul, but these people have less resources, so I'm nicer. Why? Beats me.

I really don't have much of a point. I'm just making an observation. Okay, carry on.

Sphere: Related Content