Okay, I'm still all pissy about my morning wake-up text. I couldn't get back to sleep, so now I'm just biding my time until I can run to get my new favorite dish, salmon and brie quiche, at a local restaurant. They don't open until 11:30am. Also, I can tell, I'm the throes of PMS right now. That makes me, not more prone to anger, but much more likely to call someone on it should they piss me off. The hormones being askew doesn't help. This has taken me getting used to because in my teens and 20s PMS didn't impact me at all...oh, the good ol' days.

Anyway, I was on another forum when I saw a link to this.

For 48 hours the Vancouver Sun will be giving away a free download of Seriously Westcoast, Vol. 2. It's a Christmas album: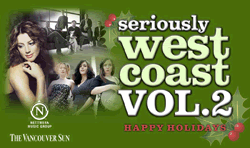 Nettwerk Music Group and the Vancouver Sun is pleased to announce another free digital download album. It's Seriously Westcoast Vol.2 - Happy Holidays. Seasonally themed and features 15 songs from such artists as Barenaked Ladies, Sarah McLachlan, Medieval Baebes, Jars of Clay and many more.

This special digital album will only be available for a limited time
staring on Saturday, December 15 at 12:01am for 48 hours only.
I think there is less than 24 hours left, so go, go, go...download you fools!
Download!
I'm usually a major Grinch approaching Christmas, but, usually on schedule, my Grinch heart melts and I give out candy canes and crap like that. (No, it hasn't taken hold yet.)
However, maybe those Canadians aren't so bad after all ;)
Sphere: Related Content