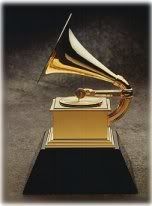 I am watching the CBS west coast Grammy Awards broadcast via the TVUPlayer. I have to say thank God for broadband Internet. I'm watching it hours before it airs here on regular TV.

However, the nominee list has been updated and the winners are highlighted in gold, so I already know who took what home.
John Mayer, John Mayer, John Mayer!!! Congratulations my dear on your two wins! Nice tux and sneakers!



The Dixie Chicks! Damn girls, you showed them! Five Grammies!!! I'm so proud of you!
Mary J.! You're a queen and congratulations!
The Chili Peppers, congratulations! You're legends and, for me, you're hometown legends! Here is a deep bow of respect to you all the way from Seoul! I love you guys!
John Legend, Gnarls Barkley, Ludacris, Carrie Underwood, Justin Timberlake and the rest of y'all big congratulations.
Congratulations to young Robyn Troup for winning a duet with Justin Timberlake.

Take a bow!

I have say that this is one of the best Grammy Shows I've ever watched!
The Police!!! I don't even need to say anything else.
I think it helps that there was a recognition that Don Henley and the Eagles were one kick ass band!
The
merit award winners
!
I was a lucky kid because I learned about all types of music ranging from country, because my parents were from rural Georgia, to classical, because I was lucky to go to school when teaching about the arts was still valued.
This show was great because of the recognition of excellence in
all types of music
. Maybe it's simply because I haven't bothered to tune in to one for awhile. No matter what, it is a great show. (I'm still watchin' it as I type...)
Thank you artists for the great music!
The Police at the 49th Annual Grammys:
Justin Timberlake performing "What Goes Around" and going Blair Witch Project on us:
Corinne Bailey Rae, John Legend and John Mayer (this performance brought tears to my eyes - they killed it - bravo):
Beyonce performing " " from the Dreamgirls soundtrack with Prince introducing her!!!:
Shakira with Wyclef Jean peforming "Hips Don't Lie" - just fierce (loved her since I heard the
Ojos Asi
track back in the 1990s):
Gnarls Barkley performing "Crazy":
Mary J. Blige peforming "Be Without You" (some tears here too - what she had to say got to me):
Rascal Flats and Carrie Underwood in their tribute to the Eagles singing "Life in the Fast Lane"
Good Lord! Christina Aguilera Ripping up the stage in tribute to James Brown - "A Man's World" (I was a sobbing again - I thought she sung a great tribute to a great artist):
The Red Hot Chili Peppers "Snow ((Hey Oh))"
(Clearly, a lot of the sobbing has to do with me being majorly homesick, but that's another blog post for another time.)
Clearly, these are not in any particular order.
Enjoy!
-------------
Moi:
Congratulations y'all
(Part 1)
The Recording Academy:
Grammy.com
Launch!:
Launch.com
(why they have it listed as the 48th Annual Awards, I don't know. Hey, Launch folks, clearly you need some help...call me.)
Time.com:
Grammy Moments
Crunk + Disorderly (funny comments):
The Afterburn
MSN Music:
2007 Grammys - Best and Worst
NYTimes:
Dixie Chicks, Mary J. Blige and the Red Hot Chili Peppers Win Grammys
LATimes:
The Envelope - Grammy Coverage
NYPost:
BUSTED! REUNITED POLICE FAIL TO ARREST AT LACKLUSTER GRAMMYS
Sphere: Related Content