You know what? Americans tend to be incredibly arrogant most of the times it seems. However, don't take it that I'm bashing American's only, because I've found that Europeans and Canadians aren't much better. However, as I'm an American so most of my observations are about other Americans. Why am I making this observation?

Well, I remember when I first considered moving to South Korea. Friends of mine freaked out for all sorts of reasons, but the biggest one was my health as they were concerned about the quality of health care that would be here for me. It was assumed that South Korea was a country that had to be in the virtual stone ages. Now I realize that the standards of living in America versus some other places is huge, but modern South Korea is very advanced and, in some ways, more advanced than the States.

I'm an insulin dependent diabetic. I have juvenile diabetes, but I was lucky as I started showing symptoms and was diagnosed fairly late on. As a result, I was admitted to Cedars-Sinai. I had the best doctor and nurses, and, overall I just had a wonderful experience. That gave me a great start on diabetes management. When I started working I had an HMO and had an okay doctor. However, I soon found out that without money and insurance that the well runs dry very fast. I was okay initially, but in law school I didn't have health insurance and with a pre-existing condition any I'd find would be expensive or would exclude coverage for, my diabetes, the one thing I needed to insure. I had a close call that was very scary, but after law school once again got lucky and had an excellent physician when I had another HMO.

Here in Korea I'm covered under their social health care system. I call it the health care discount system because that's essentially what it is. I don't have a deductible or a co-pay. They just take a certain percentage off the total of your bill. Since I'm diabetic and I have an insulin pump, I go to my doctor at Hanyang University Hospital doctor once a month. My doctor, Dr. Ahn, is awesome. My nurse, Ms. Koo, is the best nurse I've ever had. Once a month I get a full spectrum of blood work, a prescription refill (my meds are around $15.00 a month), and consultation with my doctor. I have to say that one big reason I like South Korea is because, if you find the right doctor, the health care here is great. Best of all, it's affordable.

That leads me to why I'm discussing this now. I'm working and I fell down face first on the pavement walking with my class. I noticed a bloody cut on my hand and got that taken care of right away. However, I didn't notice that something had gotten into my eye until it was Sunday and I was home in Seoul. To make a long story short, I ended up with a scratched cornea.

Ouch!!! It's horrible.

I went to Yonsei Severance Hospital simply because I was in a huge amount of pain, and I knew I'd have the least trouble there as a high amount of their staff is bilingual. I speak enough Korean to put most Koreans at ease and then usually they'll notice that my Korean isn't up to speed and get me help.

It cost me roughly $50.00 (or 50,000 Korean won). They took me into the triage section and asked me what happened and got my medical history. Then they took me in to flush out my eye with sterile saline which was incredibly painful. I was then referred to an ophthalmologist who did a comprehensive eye exam and discovered that I'd scratched my cornea. He explained what he'd prescribe for me and what I should and shouldn't do. He also prescribed me a stack of drugs and gave me a shot of antibiotics to ensure that I won't get an infection. So on top of my $50.00 I had to pay around $15.00 for the huge sack of drugs I received on the way out of the ER.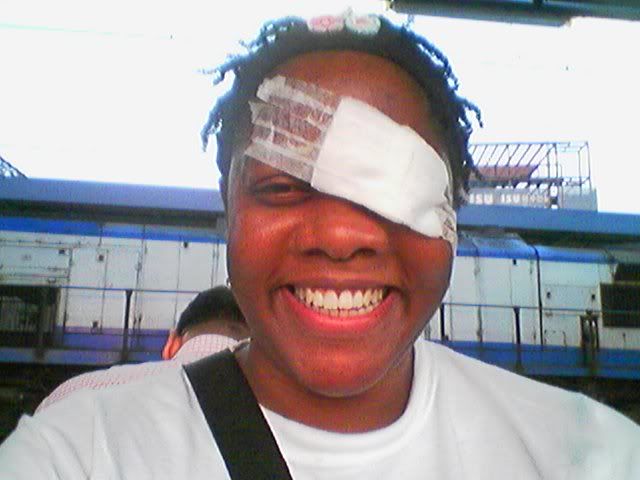 Now I'm walking around with gauze taped over my eye, a big sack full of drugs and a somewhat boring story of falling over onto my face at work. But what I have is my peace of mind that if something goes wrong I can afford to go to the ER. I have access to great medical care that I can afford.

I can't say I feel the same way when I'm living and working at home in the States.

That's just incredibly sad.

---------------------------------------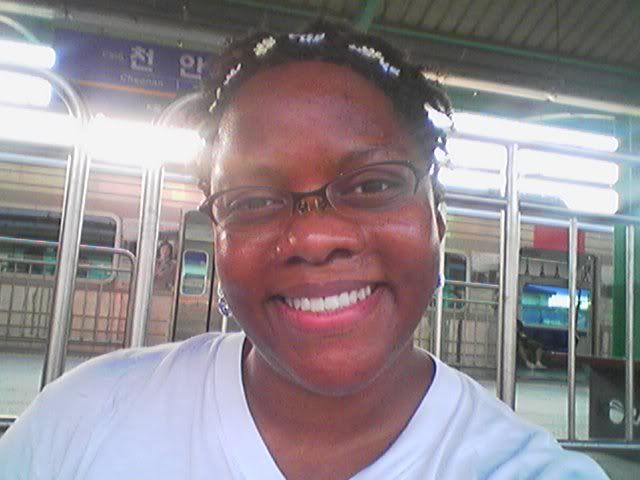 Wednesday, August 9th - Update

For those of you who've asked, I'm doing much better and the patch is off. Here is a picture to prove it. These pictures were taken at 천안 역, Cheonan Station, in South Korea as I've been doing a short-term job there. So this is chipper me at the end of the work day sweltering on the platform waiting for my train. I commute one hour each way everyday because even though I have accommodation in Cheonan it doesn't have air conditioning and my apartment in Seoul does. Plus, there is the benefit of no hyper campers knocking on my door; the kids tend to like me. Plus, I don't have a roommate to worry about at home.

Anyway, all is well with my eye for now.
Sphere: Related Content