Update 1 (Dec. 26, 2007 @ 11:19am)

I was out this Sunday and I had a chance to snap a picture of one of the holiday Salvation Army donation set-ups. The little black box in the middle of the pink display is a place where you can swipe your T-money metro card to make a donation. Now that's clever.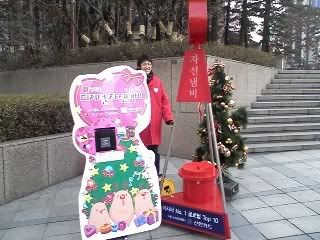 _________________________________


This morning I was clicking around on various Korean newspaper sites when this bit of news caught my eye.
As I mentioned in my post about
my new cell phone
, Korean cell phone technology is incredibly advanced and you can bank from your phone.
One company, SK Telecom, has made it possible to make donations to the Salvation Army during the holiday season. I think that's great.
SK Telecom will set up a temporary service allowing subscribers to donate money to the Salvation Army through their mobile phones free of charge from Dec. 1 to 24. /Newsis
Considering that I think Koreans need to donate more time, money and attention to various charities, as well as establish a social safety net, this is a great idea. I hope it works and donations in Korea to this great charity increase.
Sphere: Related Content