I've been a subscriber to the Merriam-Webster Word of the Day feature for a few years now, literally.

I just noticed that they've updated it. In addition to the definition, an example sentence and the other stuff you'd find in a dictionary, they now have an audio podcast section. You can go to iTunes and subscribe, but I'll just keep letting it arrive in my email box daily and listen to it from there.

With all the excitement that the election brought, I honestly just neglected to listen to the This American Life podcast. I'd been subscribed to it for awhile, but chose to skip it to listen to politics. I've been catching up this week, and oh wow, I've missed some good ones. Home Alone, this week's episode was just so touching and quite sad in some episodes (if you've not listened to their broadcasts before, they break the hour into an introduction and three acts). The first act of Home Alone was so sad and touching that I was close to tears on the subway.

I tracked back to listen to some other episodes. You can listen to the older episodes by going to their website. David Sedaris features prominently in This American Life, and that's fine. I just don't think he's all that funny. He makes me laugh from time to time. With that sort of lukewarm attitude for him, I just scroll over his parts most of the time. However, if you like him, then you ought to become a regular listener. If you don't like him, then do what I do, just fast forward ;) In contrast, I wish they'd feature Sarah Vowell more than they do. Hearing an episode she'd done for This American Life is actually what inspired me to subscribe. So more Sarah!!! Maybe she's just too busy being brilliant all on her own. Who knows?

Slate's Cultural Gabfest, the Identity Crisis edition, was really good this week. I got a bit heated when they discussed Rebecca Traister's recent piece on the mommification of Michelle Obama. I won't get very deep into what I think except to say I'm always very disappointed that feminists feel the need to attack another woman's choices. Maybe I'm misreading Traister's perspective, but reading what she wrote gave me the impression she just doesn't get it when it comes to how hard it can be to grow up black in America. I say that as someone who had many perks and I don't say that to imply that other children, including white children, don't have difficulties.

I just don't think Michelle Obama has been strong armed in any way to make her daughters her primary focus. It strikes me as cynicism in overdrive to read her actions as soley to benefit her husband's bid for president (yes, that was part of it), but I also truly believe her daughters are her number one priority. I know and I think any other black woman knows, if they've managed to get into and out of college and grad school and into a professional career that support is crucial. Anyway, Traister's framing of the issue is offensive in that if it's a smart woman that chooses to put her kids front and center that it's something to be questioned.

Last is a great fashion podcast and website I discovered this week. WhoWhatWear.com is the creation of two L.A.-based fashion journalists.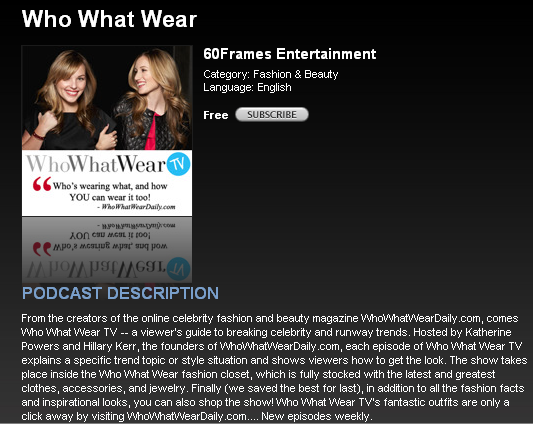 I don't care too much about what celebrities wear. I just have a deeply ingrained resistance to celebrity worship in any form. However, I do like their trend analysis and how they present the looks they discuss. Here is the link to WhoWhatWear on iTunes.
Sphere: Related Content