I've spent the whole day running around Seoul. First, just on personal business. However, I got to the Seoul Fashion Week in the afternoon and had the best time.

Now I've come to finally admit I'm a horrible photographer. However, someone did take a shot of me and designer Han Seung-soo, 한승수. So I can prove I was there ;)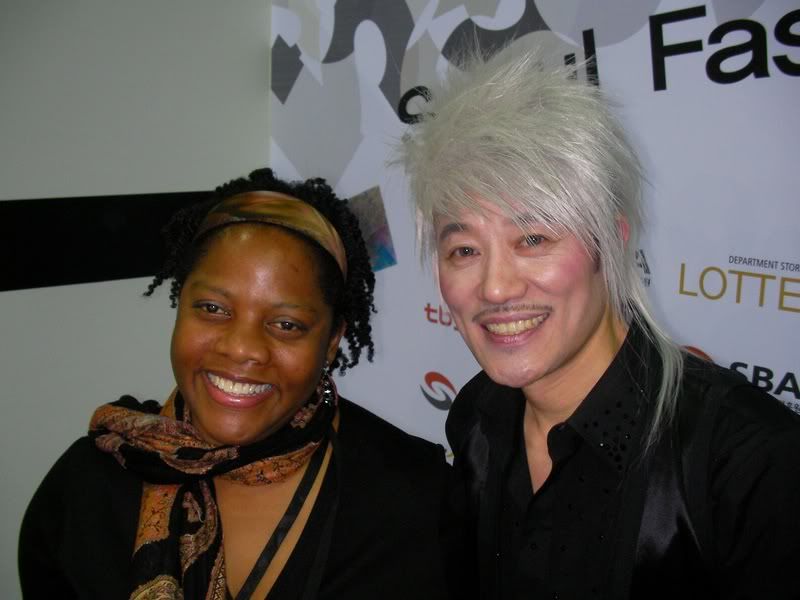 Today was the start of the event and it will go through next Monday. Today and tomorrow will feature men's clothing.

Out of the shows I saw today, my love was the "beyond closet" collection by Ko Tae Yong, 고태용. As stated though, I suck at photography, so keep tabs on the FeetManSeoul website for the pictures.


Here is the start of the "beyond closet" show. The camera is a hand held and it's askew, so forgive me. But, from it, you can catch a quick glimpse of some of the stuff I saw today:

Okay, it's late and I'm tired. I've got to work tomorrow and then I'll get myself over to see the last shows tomorrow.
Here is a shot I found of his show...very nice, no?
FMS
has some great shots of Ko Tae Yong's show too.
_____________________________
Here is a funny update. I finally got this pic Mike, aka the Metropolitician and FeetManSeoul, took of me and Korean celebrity
Hong Suk Chun
. I know Mr. Hong from socializing way too much at his restaurants. Only at an event like this or San Francisco would I be at risk of getting felt up by a gay man ;)
Sphere: Related Content