Well, that's not entirely accurate. It seems that lunch with one of my blog crushes, Anderson Cooper, went for $4,500 at the Bailey House's 20th Annual Auction & Party auction in NYC.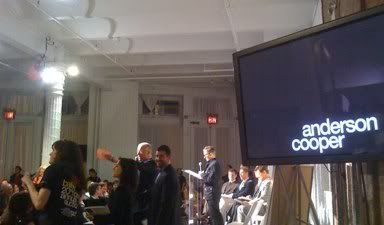 Designers Jonathan Adler, Simon Doonan and John Bartlett, architect Jeffery Povero and Project Runway's Tim Gunn hosted the event which included both a silent and a more lively, live auction. Two women bid top dollar for a lunch with CNN's Anderson Cooper: $4,500!

...

Now going on 25 years, Bailey House provides housing and other vital needs to people living with HIV/AIDS and to their loved ones.
Beyond the fact that I could have scored one expensive lunch with one of my blog crushes and that the money goes to a wonderful cause, there isn't much to it.
However, there it is, that's the going rate for lunch with one of my blog crushes ;)
Sphere: Related Content