Today was straight up great at Seoul Fashion Week. I've named it "March of the Bad Asses" in my head.

I say this because I saw the Ha Sang Beg, 하상백, show first. And take a look at the video and you should get what inspired me to use the word "march".

What a way to start the day. He's all the rage here. He's a former illustrator, turned model, turned TV fashion correspondent, turned designer and I hear he DJ's from time to time too. He's pretty much doing all of these things simultaneously. That makes him fierce.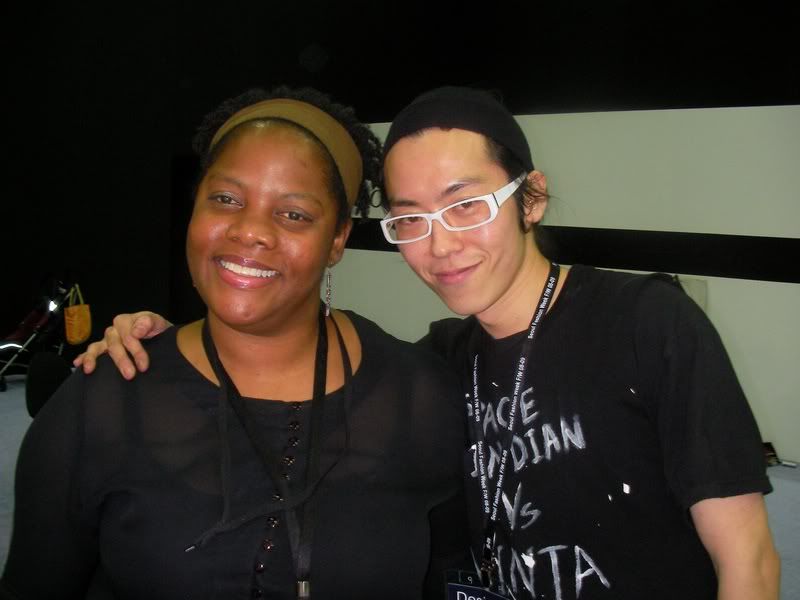 He had an awesome show. I also scored an interview with him which turned out great. He's fun to talk to. That interview will make its way to the FeetManSeoul site as soon as we can get through all of the great pictures and interviews we've gotten.

Since Ha has modeled, he's not shy and he opened the show with videos of himself. Now I saw it as him visually giving the crowd an idea of his design concept. I could be wrong about that though. However, whatever the concept was behind it, I liked it.


I'll add more of what I saw, but I LOVED the model who came out first. He basically did a subdued robot (very popular pre-pop locking) routine to the music and then the rest of Ha's fashions followed. It was all wonderful theater and there was a pink jacket that was about thigh length in his collection that I just LOVED.
This is the end of his show.
More videos from this and the other shows I saw will follow. Now, however, it's time to get ready for tomorrow and then it's sleepy time. One more day of Seoul Fashion Week to go and I hope it only gets better from here.
Here comes more video. I'm uploading in reverse chronological order.
The end of the
Andy & Debb
show.
Their collection was really nice. However, my video shots weren't, so I'll only upload the end of the show. They had great pieces that I could see being stocked and sold in department stores back home. They had a cool 60s retro theme in both the pieces, the styling of their models and, of course, the music. Also, the clothes just kept coming. They have a few stores here in Korea and just seem to really know what they're doing.
The day ran so late that I didn't get a chance to interview them for FMS. However, I hope to sometime soon.
Sphere: Related Content