I spent a few days in Fukuoka, Japan earlier this week and I just had a great time. Part of the reason was for a visa run which I'll chronicle later. However, let me just make it clear, yes, you can still do one day visa runs to Fukuoka. I didn't but you can.

I really like that city a lot. Because I don't live in Japan, don't know much about the culture or the language, it's still just a random experience when I end up in Japan. It's always great because the Japanese are so wonderfully courteous and friendly.

I'd left my diabetes test strips at home. I had enough for most of my trip, but because I wear an insulin pump I need to test my sugars frequently. This is particularly so now because I'm back to exercising and my glucose levels and insulin needs are changing. Also, I was in a city just walking around a lot, so that means I also needed to check more often. I use a One Touch Ultra Smart glucose monitor by Johnson & Johnson.

I decided to stick with One Touch years ago when it was just pretty clear they were a dominant player in the industry and their products were everywhere. I've bought One Touch test strips from Vladivostok, Russia to Paris, France. That sort of security in knowing that wherever you'll end up, some place will have your diabetes supplies sets my mind at ease when I travel.

It was a bit more of a chore finding them in Fukuoka, but I chanced upon Sogo Pharmacy in the Nishijin area of the city. I'd gone to Nishijin to do a run at the Donki store and decided to see if I could find a pharmacy with test strips since there are many along that road. The pharmacists at Sogo were great. They didn't have it, but they got on the phone and called another branch in the Tenjin area of the city which is where my hotel was. They had the strips there. Then one of the pharmacists went with me across the street to the bus stop, waited with me and made sure the bus driver knew which stop to let me off at.

I'm sorry but in Korea you'd get the people giggling because they were embarrassed dealing with you, a "no" with no other attempt to help you and you'd be sent on your way. There would be no one who worked a the pharmacy trying to help you find it. This low level of care is what I allude to when I talk about Korea and their desire to be a "hub". If they can't get basic customer service down, those with the money and the means are going to move to places where they will consistently get that high level of service. That level of service is here in Korea but it's on a hit and miss basis. It's by no means consistent and, unfortunately, it is usually lacking.


I made it across town and successfully bought another tube of strips. Now I could rest easy and take myself out for authentic Fukuoka style ramen. In Fukuoka stalls pop up when it gets dark. These stalls serve food and liquor. Usually they're full as they hold only about 10 or so people. I found one that had a spot for me. I sat down, ordered some ramen and an Asahi beer. Then I met these fun people. The girl particularly liked me because we had the same hair. I thought that was cute because she was lamenting that mine was real while hers was fake. What was cute was her date for the evening, sitting on my right in the picture also had an afro perm.
Earlier that day I decided to play tourist a bit. I went to the Fukuoka Tower to see the view of the coastline and the city. I also went to
RoboSquare
which is next to Fukuoka Tower in the TNC building. Both were pretty cool.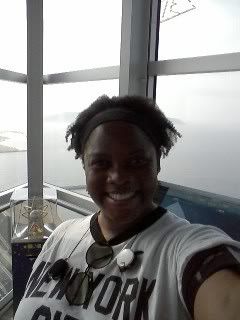 The tower made me a bit dizzy. I'm not one for heights, but when on vacation you've just got to suck it up. They even have couches on one level for couples to snuggle and look at the view. I also met a really nice guy there too. Fukuoka people are really friendly.
Next door at RoboSquare I had more fun. I got to pet a robotic seal and play with a robotic dog. That was too much fun for me 'cause I'm a geek. The dog has even been programmed with real life quirks. Sometimes he'll play fetch, but sometimes he won't be in the mood and will just do his own thing. I also got to talk to a Hello Kitty robot. However, she only spoke Japanese, so her reply to my US-accented "hello" I was told was she didn't understand me. Fair is fair. I was in Japan speaking English.

The next day was a rainy day so I scrapped my plans to get up to the Atago Shrine and instead just bounced around the Tenjin area shopping and wandering around until it was time to get the the ferry port.

It was weird when I got there because I ran into a Russian man who just fell in love with me. I went to the restroom just to make sure I'd be set when it was time to board, and I noticed there was someone outside of the restroom. I figured maybe they were waiting for someone. So imagine my surprise when I came out and he asked me for a picture. I'm cute, but I'm not bathroom stalking cute. However, different strokes for different folks, I guess. I've noticed that some Slavic men go a little batty when I'm around. I recall one great story in Vladivostok with a Russian man as my Princess Cruise ship was getting ready to sail off to Japan. Eh, I won't complain because we know attention like that is a lot of fun. In the spirit of quid pro quo, I had a friend of the Russian bathroom stalker snap a pic of me and my enthusiastic Russian admirer. However, the picture turned out a bit too blurry to post here.


The other funny and embarrassing thing was my test strips weren't the only thing I'd forgotten to pack. I'd also forgotten my underwear. Good for me that Korea has underwear in a box. At the Express Bus Terminal at about 1:45am I went to the Family Mart and bought a box of ladies panties. It's embarrassing, but, at least, they have them.

In sorting through my photos, I realized I'd not uploaded any from the Mayercraft Carrier cruise I took a few weeks ago. Honestly, I didn't take many photos simply because I didn't see a need to. Also, I was offended to my core by people who wouldn't let Mayer just enjoy the cruise.

I didn't take well to the photo stalking. The guy had agreed to take a cruise with his fans and some of his fans, in my opinion, treated him less than humanely by sticking their cameras and themselves in his personal space. My rule is if he's performing and is on stage, game on, and snap away. However, if the guy is in the nightclub, and for the first two nights I was there shaking my groove thing on the dance floor he and his crew did show up, you leave him the hell alone and let him enjoy his time. Should you get his attention, ask if it's okay to take a picture and he says it's okay, then snap away. Of course, people don't have that level of self control, so it became a zoo when the guy was anywhere near people on the boat. I'm glad that he still had enough fun that they're planning for a second one next year.

Anyway, here are two photos I snapped during his last show. He played three shows on the three day cruise. One on the first night and two on the last day. One show was during the afternoon on the Lido Deck and the other was in the evening. Basically, that day was my day o' Mayer and it was great fun because it was also Superbowl Sunday. That's all of the Mayercraft coverage you'll get out of me. For more, hop over the the Mayercraft Carrier Chronicles where I put together all of the blog posts I could find from others on their cruise experience.


Also, that reminds me to give a hat tip to the Hotel Fukudaya in Tokyo. I had a reservation to stay there at the tail end of my vacation home/Mayercraft adventure in late February. However, due to a death in my family and me just enjoying being home, I chose to stay in the States. I canceled my reservation at the last minute just due to confusion on my part. The people at the hotel graciously waived the penalty.

It's basically a renovated home where they now put up guests to the city. I've stayed there once before back in November 2006, when, speaking of John Mayer, I flew to Tokyo to see him in concert. Honestly, for a city as expensive as Tokyo it's nice to stay in a place where you have s-p-a-c-e but is not prohibitively expensive. Check them out. They're just a few stops by bus from Shibuya station.

Okay, there is is. Weeks after or days after the fact, depending on the trip, but there it is.

Sphere: Related Content