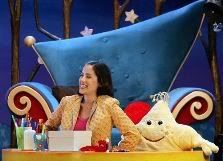 Okay, this one is just stupid.

The news is buzzing with a story about Melanie Martinez who was host of PBS Kid's Sprout network host for their The Good Night Show. She was fired for two short videos she was in seven years ago that spoof the teen abstinence themed videos we've all seen.

I've posted the two spoofs here. The first one is hosted by Google video and runs fine. The other is on YouTube. For some reason, the video and audio aren't synchronized. Should better versions appear, I'll post the new links.





I've seen worse than this on Saturday Night Live!

I understand the network's right to be sensitive to its audience, but your average parent wouldn't mind, and would probably get a laugh out of the short videos. As for the kids, well, that's just a non-issue at this point. It just seems to be extreme action for videos which have neither nudity nor lewdness, but are just satires on a easily spoofed genre.

In an article from the Philadelphia Daily News points out the hypocrisy inherent in firing Martinez over this:
As more than one parent pointed out, PBS is the network that hired George Carlin to narrate "Thomas the Tank Engine" and invited James Gandolfini (mob boss), Tom Green (sexually pleasured farm animals) and Robin Williams (stalked suburban family) - plus numerous other actors whose previous roles might confuse children - to appear on "Sesame Street"?

Sphere: Related Content