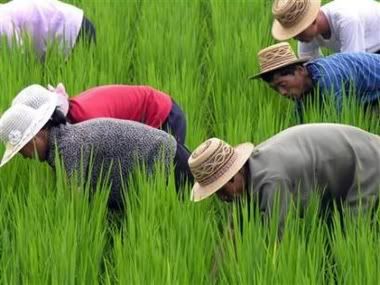 North Korean co-operative farm workers on a rice paddy in Unpha county, North Hwanghae province, July 19, 2005. The U.N. World Food Program said on Monday North Korea had yet to allow it to distribute food aid there after widespread flooding that some analysts have warned could trigger famine in the country. (Gerald Bourke/WFP/Handout/Reuters)


The Middle East crisis is dominating the news. Now there is good reason because it's a gripping story and horrible things are happening there and, in particular, to civilians in Lebanon.
However, there are issues going on in other parts of the world too.
As I mentioned in
Rain, Mint, and Flooding
, here in Korea, we were in the 장마 season. It was pretty much raining non-stop for more about two weeks. In South Korea there have been
a few deaths with about 2,400 of people displaced
from their homes.
However, in North Korea it is feared that many more people have suffered due to the high amount of rain that we experienced in the region. North Korea released an announcement on Friday saying hundreds were killed or are missing.
North Korea on Friday made its first official comment on deaths from the storms, saying
hundreds were killed or went missng
. The thing is they're only letting the World Food Program (WFP) into one county. As a result, the WFP can't assess what the damage was and what the need is, and it can't ensure that aid gets into the hands of those who need it most.
And you wonder why North Korea doesn't let its people have any interaction with the outside world? Outside of the probable reality that the people would wise up and rise up, the fact that the North Korean government has let its own people suffer and starve would surely anger quite a few people.
It's incredibly sad to put a priority on game playing in international politics and allow people to suffer this way.
Sphere: Related Content